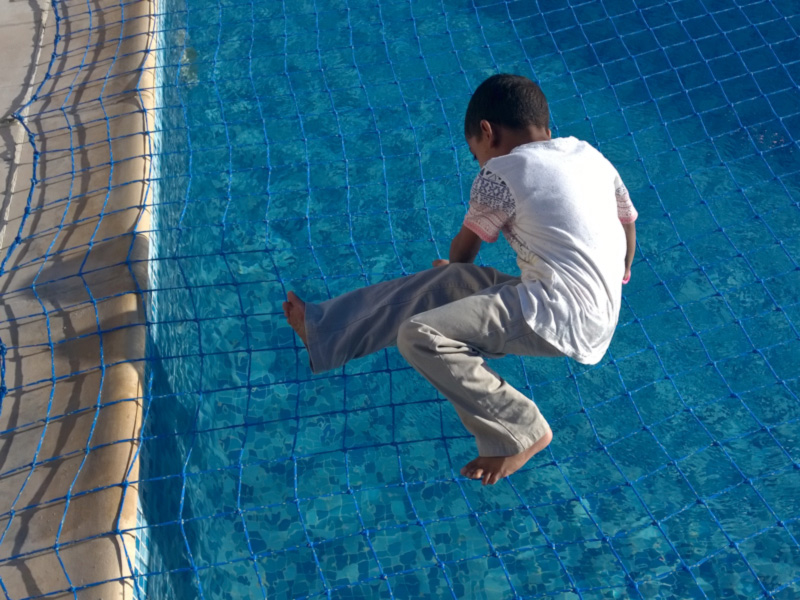 Aqua-Net Pool Safety Net
…for complete peace of mind
Drowning is a quick and silent killer. As you know, in the time it takes to answer the phone, go to the bathroom or answer the doorbell, a child can silently fall into the water and drown or sustain permanent brain damage. The Aqua-Net swimming pool safety net was launched in 1972, and has been used by concerned parents for more than 40 years. To date, there have been ZERO reported drownings in a pool with an Aqua-Net installed – that is to say a 100% safety record!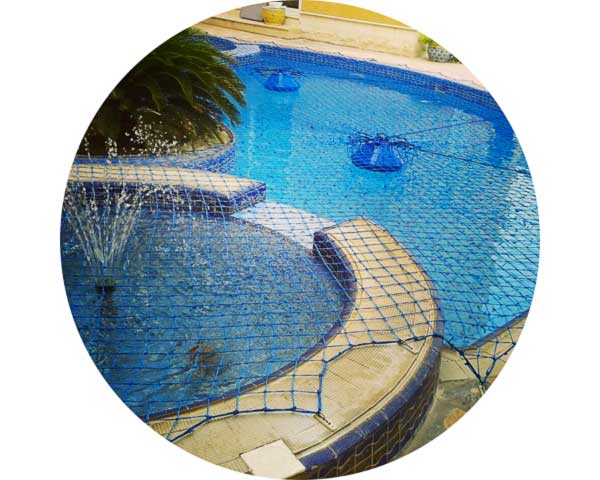 Features
The Aqua-net is a simple system  •  Fitted under tension across the pool  •  Completely blocks access  •  Easily fitted and removed by an adult  •  Custom fitted to any shape or size of pool  •  Blends beautifully with pool and garden  •  Does not block view  •  Available in blue, black or beige  •  3-year guarantee
Safety
More than 40 years with a 100% safety record  •  Prevents drowning  •  Supports a crawling baby off the water at pool edge  •  Pre-shrunk 80 mm mesh adheres to international safety net standards  •  The Aqua-Net has a breaking strain over 150 kg  •  Fitted under tension and a child cannot lift or crawl under the net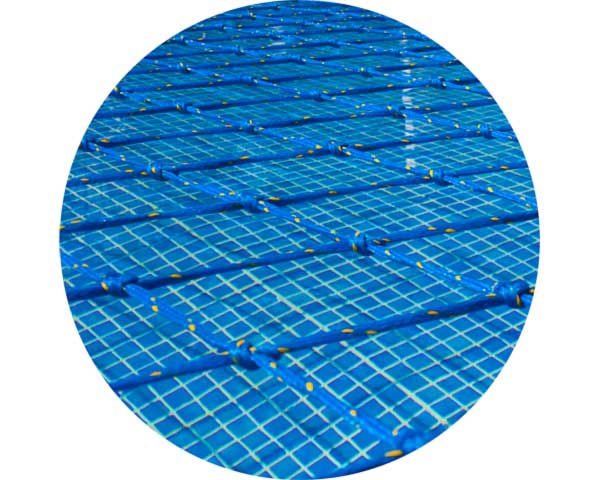 Components
Manufactured from UV-treated polyethelene braid  •  Resistant to sunlight, water, acid, pool chemicals  •  Life expectancy of 7 to 8 years  •  Unique Central Tensioning System allows net to be tightly locked  •  Central float keeps net at constant height above water level  •  Hand roller for easy removal and storage of net  •  Optional Aqua-Net alarm available
Why choose an Aqua-Net instead of a fence?
The Aqua-Net is strong and safe. It has a 100% safety record over more than 40 years.

The Aqua-Net looks good on your pool. It is customized on site to your pool's size and shape. The design and stylish central float complement the pool colours.

The net is low profile and does not spoil the view or design of your garden.

It is easy to remove and store away.

The Aqua-Net is maintenance free. It does not need cleaning or special treatment.

The mounting plates are very low, flat, and UV-resistant. They do not get hot and are rounded to prevent injury to little feet.
What is the difference between a pool net and a pool cover?
A pool cover is not necessarily a safety device. A pool can even be a safety hazard for kids. Children have been known to slip under loose edges of PVC covers. Water can also collect on top of these and present a drowning risk. The usual purpose of a pool cover is to keep leaves and sand from blowing into the pool. Some pool covers can also insulate the pool, maintaining water temperatures warm or cool.
A pool net is a child safety device. It can prevent drowning by forming a secure barrier between your child and the water.
Just some of our pool safety net installations…
Contact us
For a provisional quote, please give us the maximum length and width of your pool, from water's edge to water's edge. Or for a visit, please give us your location and contact number.