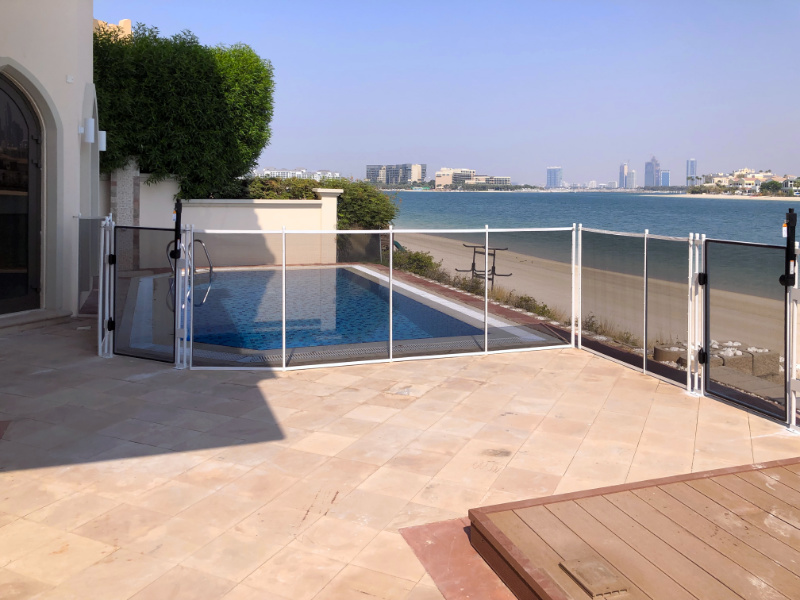 Amananet Pool Safety Fence
A swimming pool safety fence is the simplest and most common way to secure a swimming pool for child safety.
Our pool safety fence conforms to international safety standards. It is 1.2 metres (4 feet) high. Kids can't climb it. It comes with a safety gate which is self-closing, self-locking and key-lockable fitted with Australian quality Magnalatch lock and TruClose hinges.
Aqua-Fence pool safety fence follows the American and Australian pool safety fencing model. It is easily removable, see-through, aesthetically pleasing and minimalist.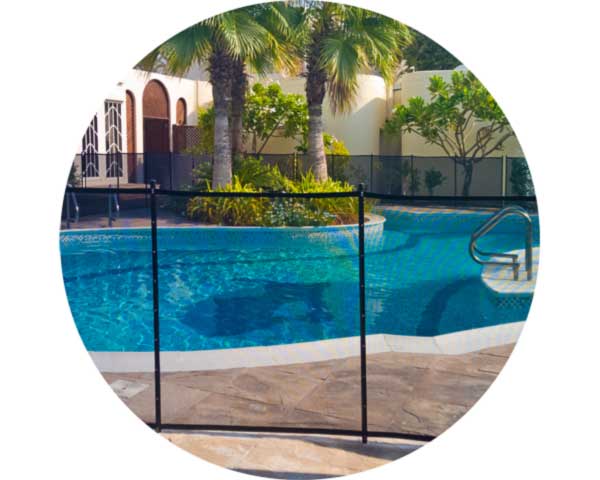 Features
Aesthetically pleasing see-through black mesh  •  Minimalist design  •  Easy access to the swimming pool area  •  With self-closing, self-locking safety gate  •   Can be removed by an adult and stored away if required  •  No maintenance necessary  •  Textilene mesh material does not shrink, stretch, fade or rot  •   3 year guarantee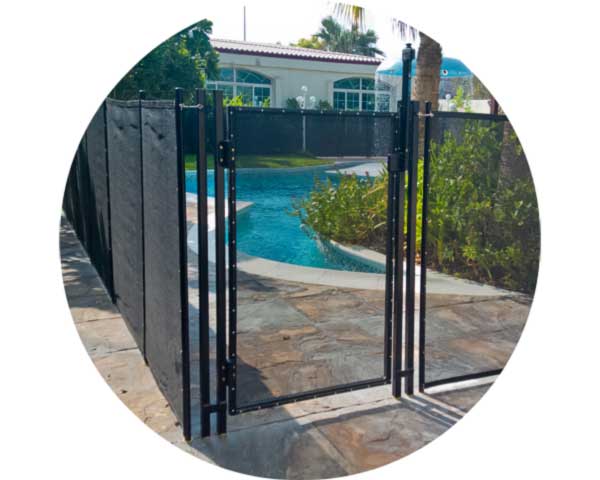 Safety
Childproof design  •  1.2m (4 feet) high international safety standard height for pool fencing  •  Childproof lockable latches between panels and gates  •  Almost impossible to climb over  •  Strong Textilene mesh is difficult to cut, even with a sharp object.  •  Self-closing safety gate with Tru-Close adjustable hinges and key-lockable Magna-Latch locks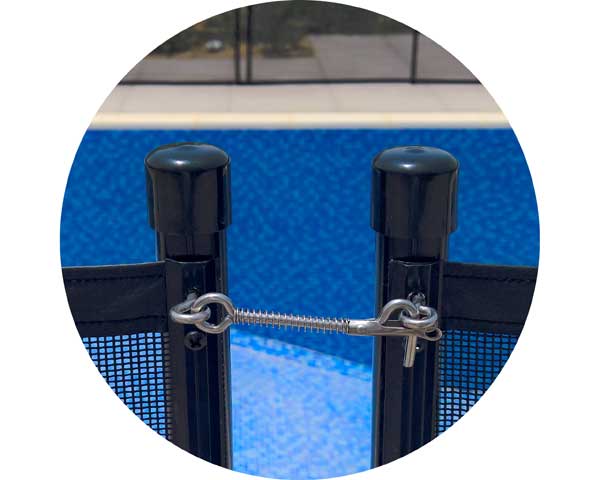 Components
Tough UV-treated see-through Textilene mesh material  •  Does not fray, rust or perish  •  Powder-coated, reinforced aluminium poles  • Aluminium powder coated cover strips  •  Stainless steel screws  •  Spring-loaded lockable stainless steel latches between sections  •  32mm UV treated sleeves into the grounds  •  Pool safety gate with Magnalatch lock and self-closing TruClose hinges
Why choose a pool safety fence ?
The safety gate gives convenient and quick access, and this is especially convenient if the pool is used many times a day.

A pool safety fence can fit around most types of pool.

A pool safety fence which conforms to safety standards is considered generally safe.

The overall length, and therefore the cost, of a pool safety fence can be reduced if it is fixed to nearby walls.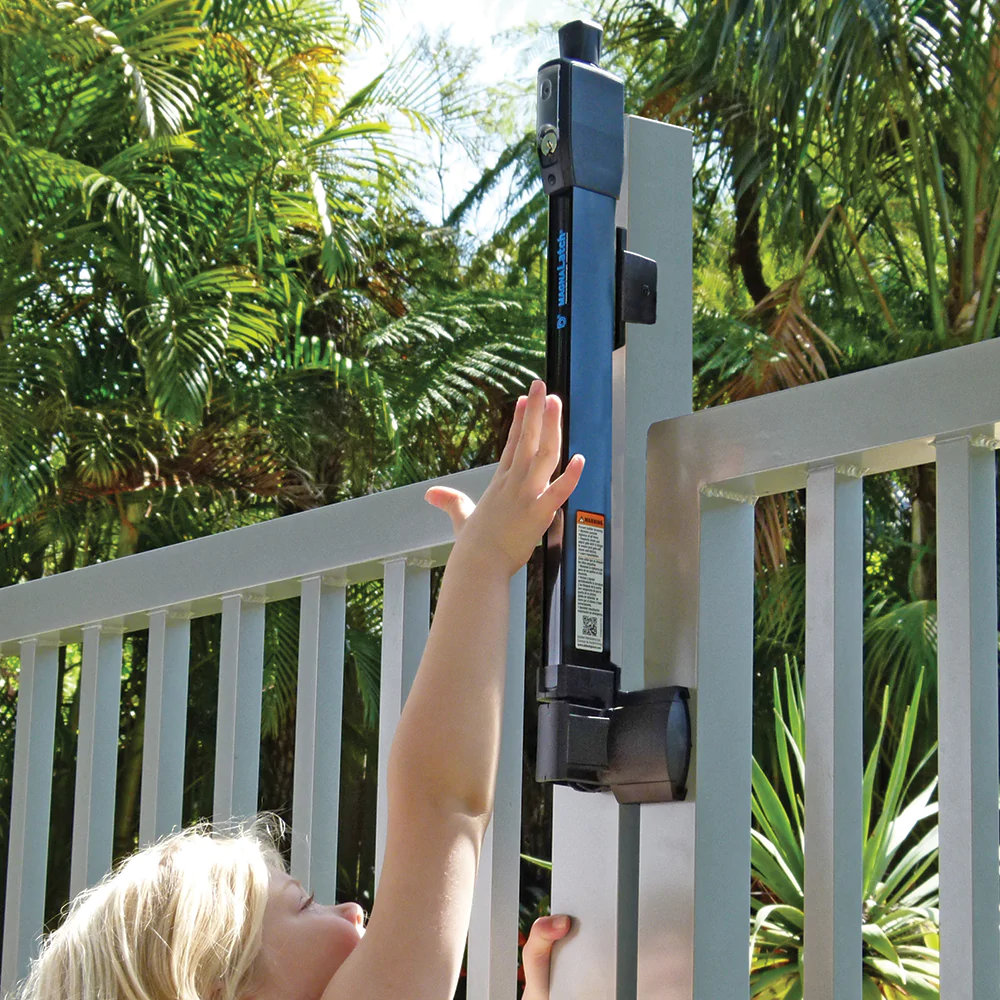 What to look for in a pool safety fence…
The height – 120cm / 4 feet tall following international safety standards

Gaps under the fence or safety gate should be less than 10cm

Impossible for a child to climb over unaided

A safe no-climb zone around the fence – no climbable low walls, plant pots, or furniture within 90cm of the fence

A secure, self-closing, self-latching safety gate which only adults can operate. Handle mechanism should be 150cm off the ground, and opened by pulling up vertically

The gate should be installed to open outwards away from the pool

The pool should be secure on all sides – a high wall can be incorporated but not the wall of a villa if there are windows or doors. These would need to be secured.

Make sure your jacuzzi, or other water pool, is inside your safety fence and not accessible for children. Access to any water pool 30cm deep or more must be secured. Install a child safety net if your jacuzzi is away from your pool.
Some of the pool safety fences we have installed…
Contact us
For a visit or a quote just send us your details.
Or for a quick quote just tell us the total length of fence you need.